Looking for home decor sewing projects for your house interior do-over? If you love the feel of snuggly comfort, you'll drool over these home decorating sewing projects and ideas that will transform your pad into a neat and cozy wonderland!
I got myself interested in home decor sewing projects while being forced to watch this kid's program about a huggable dragon and her equally fluffy friends in a cozy wonderland. Of course, the kid inside me imagined a soft and cozy place in my own house, or at least in a room. Since I'm into all things nice, warm, and cozy, I wasted no time looking into amazing home decor sewing projects for my home. Luckily, I've come across these amazing home decor sewing projects which I can easily DIY with little to no expense–hello, upcycling and recycling. Help yourself to these neat home decor sewing projects and ideas.
Home Decor Sewing Projects You Can DIY On A Budget!
1. DIY Rod Pocket Curtains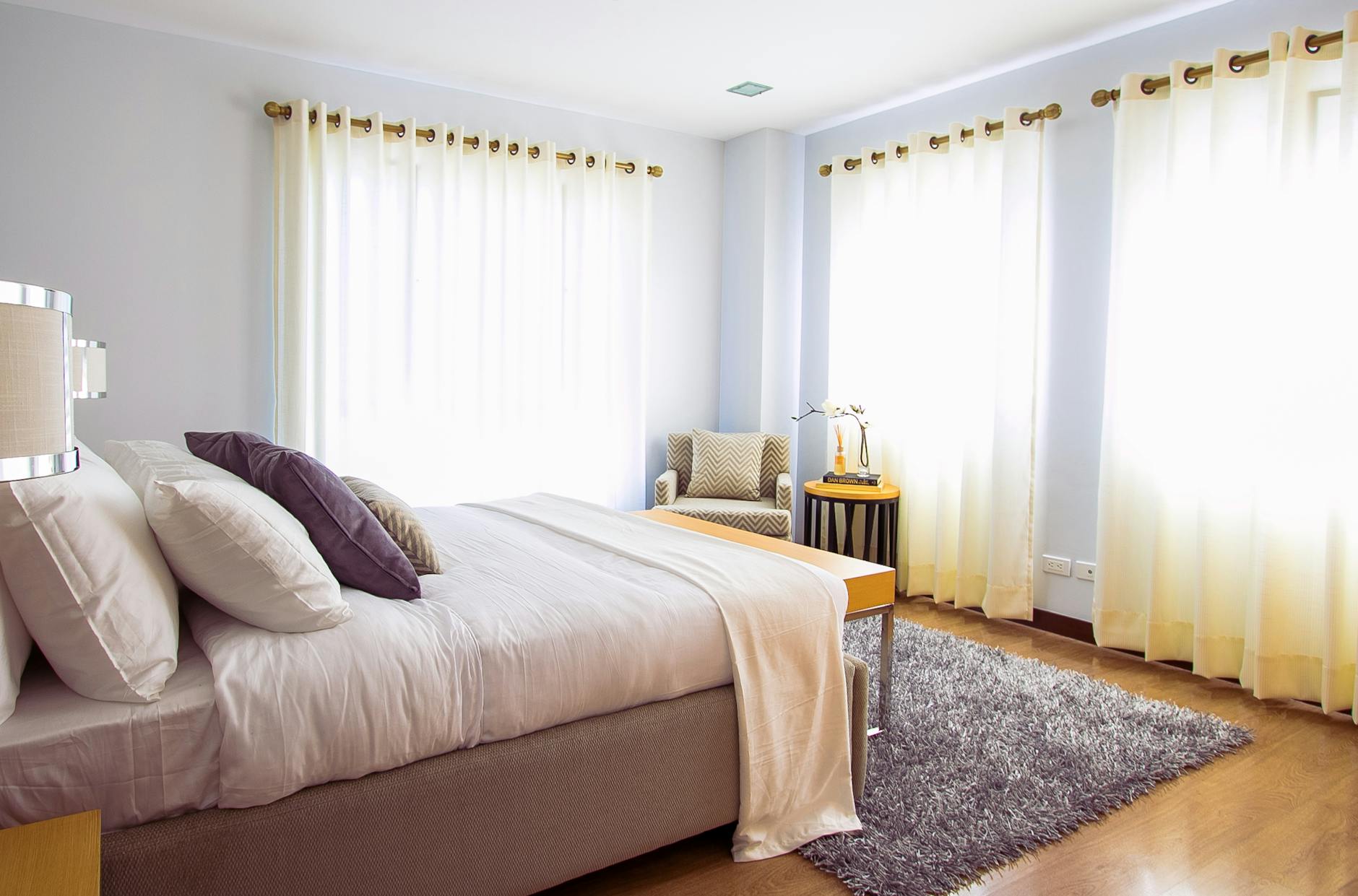 Don't you think a house without curtains look bare and feel empty? And it's also a bummer that most curtains you love are way over your budget. Lucky you, we have this DIY rod pocket curtains tutorial so you can make curtains you love on your own.
2. Roman Shades

Sometimes it's hard to find the right roman shades to match your house paint and interior decoration. So, why not make your own roman shades where you can look for the right fabric, color, and texture which will match your home decor.
3. Fabric Floor Mat
DIY Fabric Floor Mat Photo by Centsational Style
Who says your floor mat needn't be pretty and stylish? Well, this one will surely rock your floor. Create a comfortable fabric floor mat as one of your first home decorating sewing projects. This is ideal for the sink area, so you feel comfier standing over your pile you're washing up!
4. DIY Reversible Table Runner
You can make a table runner home decor sewing project to instantly create two moods in your house! This trick is particularly useful when you need a quick change of linens. Just flip this over, and voila, your dining room table is all dressed up.
You might also want to check out this home decor sewing project: How to Sew a Reversible Table Runner!
5. Reversible Pot Holders
Make your simple table setting implements more stylish by adding some flair to it. If you have small scraps of fabric at home, you can make this reversible pot holder decor-worthy with an interesting pattern. Plus, it uses a basic quilting design so you can practice your quilting skills too!
6. Reversible Throw Blanket

This grab and go flannel throw blanket project takes only an hour to make! Your family will surely love this, especially on cold days. You can use this outside the house too. Throw one over your rocking chair in your patio or bring one out during campfires!
7. Reversible Placemats

Match this placemat home decor sewing project with the reversible table runner and pot holder tutorial earlier. You can make a coordinated batch for special occasions or for everyday use. Just thinking about this is making me giddy with excitement!
8. Flutter Curtains
Among all the home decor sewing projects listed here, this one is the easiest, but it needs a lot of patience. All you need is a simple white curtain, but the circles are individually hand-sewn. Though I wouldn't mind doing this because the end result is an ethereal flutter curtain!
9. Cirrus Duvet
Who doesn't want to lie down on a fluffy bed like this with a cirrus duvet? As its name implies, lying on it gives you the illusion of sleeping on Cloud 9! Pair this with the flutter curtains and you'll never want to quit your room for anything. Make a cirrus duvet for yourself now!
10. Curtains Made From Vintage Scarves
This practically free boho chic window treatment idea is perfect for sewing beginners. Just grab your old scarves and sew them together with a straight stitch to make this pretty colorful vintage scarf curtain. You can use a sewing machine or hand stitch it, too. If you're looking for quick and easy sewing projects for the home, this is a good one.
11. Envelope Pillow

Make your own cozy and snuggly envelope throw pillow cover in under 10 minutes, by following these simple steps! Do not limit yourself to this design–instead, take this as an inspiration. Embellish your pillows accordingly, like adding pompoms as trimmings. Get creative!
You might also want to work on this related sewing project: How To Sew This Quick & Easy Snowflake Throw Pillow!
12. Square Fabric Pouf Ottoman
Looking for a creative storage idea? This spring-form bucket tutorial may be the solution to your organizing woes. It is cute and functional. You can even sew some handles on it!
14. Cute Plushies
The Little Love Bunny Softie home decor sewing project adds a touch of cuteness to your home. Try the basic design first, then let your imagination run wild.
15. Fabric Bins
What could be more awesome than a functional home decor? These fabric bins let you organize your stuff in your living room, bedroom, or even kitchen. This is also one way of doing a home makeover without spending so much. You can sew a quilt version from your fabric scraps.
16. Wall Decor Hoops
This wall decor is also one of my favorites. You can simply redecorate your walls using different fabrics to celebrate the occasion like Thanksgiving, Christmas, 4th of July, and so on. Be creative! You can get fabrics with great designs and just recycle your embroidery frames.
17. One-Trip-Up the Stairs Basket
Another favorite home decor is this one-trip-up-the-stairs basket. Who wouldn't fall in love with this practical cutie? Keeping our home spic and span seems to be an endless task, and this basket will help you become stylishly organized while tidying up!
18. Fall Pumpkin Trio
I'm just loving this adorable pumpkin trio for my fall home decor, but then, they can be my home decor any season of the year. You can use any of your favorite fabric, but I'll take this suggestion, especially the color tones for my own project.
19. Reading Pillow Sewing Tutorial
I can imagine this reading pillow gracing the seats of my porch swing. This home decor sewing project isn't just lovely, it's pretty practical too. They sure are perfect for a bookworm who happens to love sewing like me.
20. Delicious Donut Pillow Tutorial
This would probably get my little ones a little too overexcited, but my living room sure could use some interesting and adorable donut pillows. I imagine them to be perfect for my summer living room decor–they look like pretty little floaters.
21. Flower Pot Cozy

This should be a great and ingenious idea to bring those old jeans back to life. This is why I never throw away my old jeans and those little denim scraps no matter what! You never know when great home decor ideas for fabrics will come up such, as this one.
Got room for more? Make this reversible table runner and placemat with this video on how-to by SimplicityVideo:
Now, wasn't that a great roundup of home decor sewing projects, don't you agree? I love how each project is versatile. If I use one textile pattern or color, I can even create a unified look for my home. I'm positive these home decor sewing projects will make any home more welcoming and warm!
What do you think of these home decor sewing projects? Let us know in the comments section below!
Up Next: 29 Basic And Complex Sewing Techniques Sewers Should Master
Follow us on Facebook, Twitter, Instagram, and Pinterest!
Editor's Note: This post was originally published on October 11, 2017, and has been updated for quality and relevancy.