With Halloween just around the corner, we need to kick our DIY couples Halloween costumes skills into hyperdrive, fast! This is the moment to start grabbing some great finds from thrift shops and get busy assembling and stitching! Get crazy, be creative, and surprise your friends with some DIY couples Halloween costumes that show off your funny and spooky side–and parents, please try not to embarrass your kids too much, ok? 😉
DIY Couples Halloween Costumes You Can Sew
Making DIY couples Halloween costumes is on the top of my to-do list this week and I'm super psyched to get started! Halloween is the time of the year where grown-ups get an excuse to set our inner child loose–no explanations necessary! Also, we sewers get bragging rights from the awesome DIY costumes we make. (Remember my "31 Great Reasons Why Learning How To Sew Is Pure Happiness"? These sewing projects tick items 25, 26, 28 and 30.) Same as you ladies, I'm looking for fresh concepts that my husband and I haven't tried yet without boring holes in our pockets. Without further ado, I hand-picked these funny and spooky (or not) DIY couples costumes that you can make for you and your partner this Halloween.
1. Mickey And Minney Custome
Mickey and Minney may be decades old but they sure don't get outdated. It's not only the kids that get to be cute in their Halloween costumes, so take this inspiration for your costume. You can easily sew this cute tutu skirt by learning how to gather fabric. With the tutu skirt, you can easily assemble the rest of the ensemble.
2. Mary Poppins And Bert
Kids of all ages will recognize Mary Poppins and Bert the very moment they see these DIY couple costumes. What's scarier than a magical nanny and a picture-jumping chimney sweep? The mere sight of them gives me the shivers! Kidding aside, I'm seriously considering sewing this item for my son and daughter. I find the individual pieces in these costumes reusable for future costumes or events. So yeah, I'm making this!
3. Mr. And Mrs. Potato Head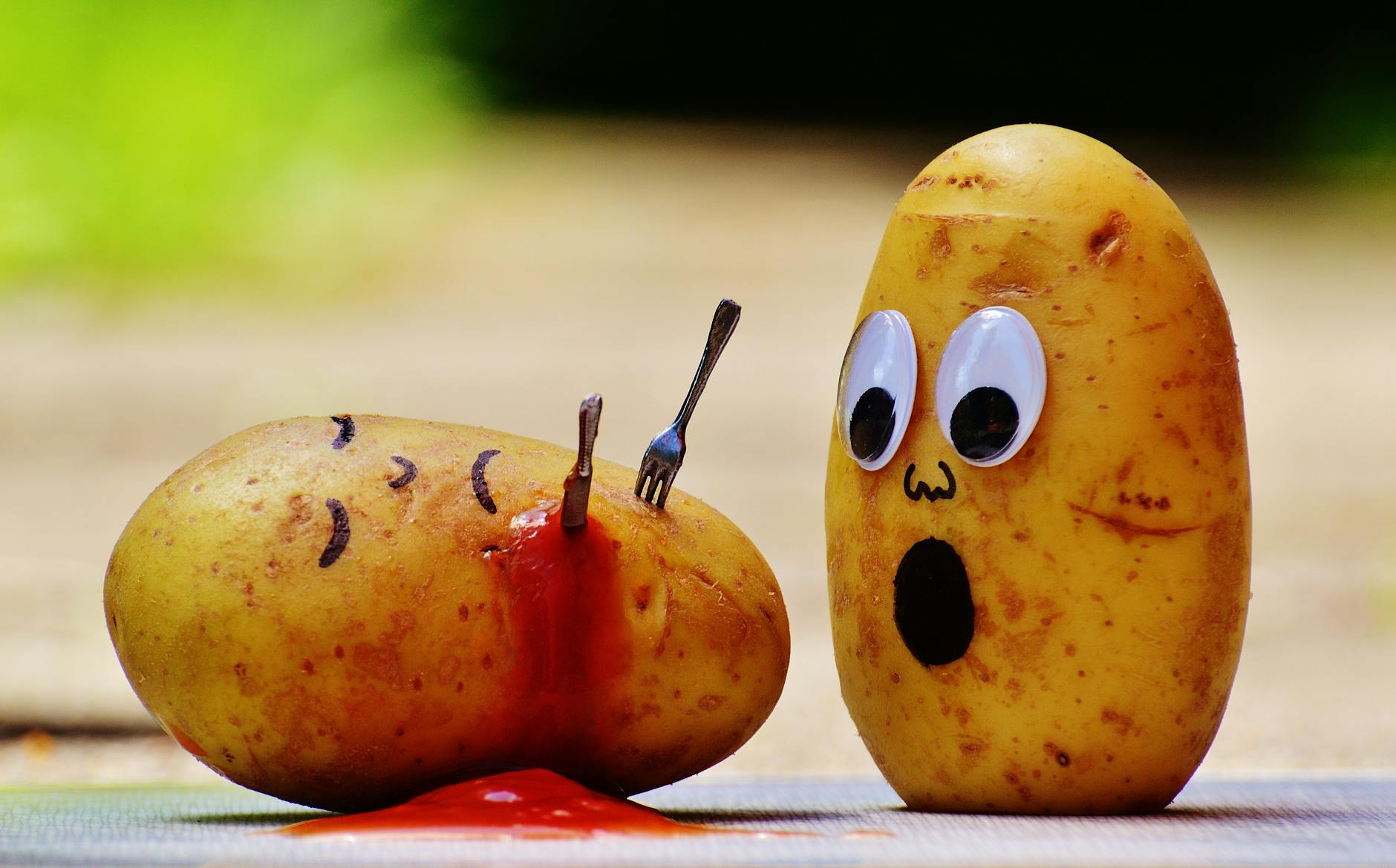 What better costume to identify a couple than the iconic and lovable Mr. and Mrs. Potato Head?I love this couple so much, I'm definitely considering this costume for a family party. The costume is simple, and I bet it is easy to make, going by how it looks.
4. Popeye And Olive Oyl
The timeless pair that nobody can compete with is the love team of Popeye and Olive Oyl. You can simply sew lace onto the neckline and cuffs of a plain red long-sleeved blouse. You can also
sew yourself a skirt
to go with the red top. Your husband or boyfriend will have a blast playing Popeye the Sailorman and getting all macho with the added DIY pipe and bulging muscle.
5. The Joker And Harley Quinn

Step aside evil gangs, the terrible two is here! With Joker's and Harley Quinn's big success in a film, there's a big chance that all the Joker and Harley Quinn wannabes will be parading this Halloween. If you want to join in on the fun,  try to stand out by being the best ones in line.
Pokemon Go lovers would surely want to know how to make this plushie! https://t.co/2yAw4lS5Yk pic.twitter.com/DsUIovpyBt

— SewingDotCom (@Sewingdotcom) September 14, 2016
 6. Pokemon's Ash And Pikachu
Be the ultimate poké battle teammates in town this Hallow's Eve. Sew a yellow dress with bright fabric, then finish your costume by sewing the details of Pikachu. With your partner playing the cool Pokemon catcher Ash, the two of you will definitely look adorable.
7. Little Red Riding Hood And The Big Bad Wolf
Knock on your neighbors' doors and get treats every time with this Little Red Riding Hood and Big Bad Wolf (or Double "B"!) costumes. Daddy gets to wear a comfortable sleeping dress or pajamas with a bonnet or shower cap with wolf ears sewn on them. Mommy, on the other hand, gets to be lovely Red. If you have kids, you can have them wear little piggy costumes too, to complete the theme.
8. Fred And Wilma Flinstone
A Fred and Wilma Flinstone costume is probably the easiest couple's Halloween costume you can DIY or sew. Both costumes have straight patterns you can easily sew with a straight stitch. You can use spare fabric cutouts to sew patches on Fred's shirt. With this easy-peasy costume, all you have to do now is play the part!
9. Tooth Fairy And Dentist Costume
Cute you think? Scary, I say! Aren't they, when this couple is out to get your teeth? Well, whatever the kids may think, I'm up for this couple costume idea. A doctor's scrub suit will be easy to buy, but this dress is a sewing no-sweat.
10. Barbie And Ken Funny Couples Costume
Now, isn't this one just cringe-worthy yet adorable? A little black dress is a life saver for every woman and it's a sewer's delight considering how easy it is to work on. Win the night's best couple's costume award in this silly, but extra interesting costume.
11. Morticia And Gomez Addams Costume
I think no other couple is as creepy-cute than the adorable Morticia and Gomez Addams. You can easily pull off a Morticia with long black gown in this easy long dress sewing guide. Chanel your inner Morticia and be sinisterly smart in your DIY Halloween costume.
12. Butterfly And Butterfly Catcher

Now, isn't this idea for a couple's Halloween costume just neat? I would love to work on this one with this butterfly maxi dress costume on her. I'm already thinking of a stretchable fabric to go with the slick dress design.
13. Game Of Throne's Daenerys And Khal Costume

I'm pretty sure there's going to be a contest for the best Game of Thrones costume this Halloween. Your only edge, you won't go for broke to dress up in this costume. With your sewing skills, design prowess, and this design inspiration, I'm also sure you're going to pull this costume off with your wallet heavily guarded.
Watch this video for more DIY couples Halloween costumes you can sew:
These DIY couples Halloween costumes are enough to make you the life of the party. You can add your personal touch if you want to! Have fun and enjoy Halloween parties more than before, because you both get to be somebody else tonight. Don't hold off nor be shy of acting out your character together. Remember that it's your commitment to the characters you're playing that ups your DIY couples Halloween costumes' performance. Sew it and then go work it! 😉
Have you tried any of these already? How did your DIY couples Halloween costumes go? Share them with me in the comments below!
Up Next: 19 Easy Homemade Halloween Costumes You Can Make For Your Kids
Don't forget to follow us on Facebook, Twitter, Instagram, and Pinterest!
Editor's Note – This post was originally published in October 2016 and has been updated for quality and relevancy.