Cinco de Mayo is a few days away but everyone is still stuck at home, but that doesn't mean you can't bring the fiesta home! Bring the Mexican fiesta home with these amazing Cinco De Mayo Crafts!
RELATED: 31 Great Reasons Why Learning How To Sew Is Pure Happiness
Inspiring Cinco de Mayo Crafts to Bring the Festive Season Home
1. Sugar Skull Hanging Kitchen Towel
Sugar skulls are one of Mexico's most famous festival patterns. With this in mind, consider the addition of a sugar skull towel to your kitchen for Cinco de Mayo.
For an easy take on the project, you can avoid embroidering and custom applique, and just use a printed fabric. Follow the instructions in the video above.
2. Cinco de Mayo Quilt
The best way to bring the Mexican holiday home is to sew a custom Cinco de Mayo quilt. For a pretty quilt, you need a few Mexico-themed pieces of fabric.
What you need to do is cut them out in square-shaped scraps, rearrange their order and sew them together. This crafty project would take hours of dedicated work but the end result is stunning.
3. Felt Sugar Skull Sachets
The sugar skull plush is a great ornament for any festive home. Handmade felt sachets are a top home decoration for any Mexican celebration.
The sewing process is relatively slow and manual, and the project itself is extremely crafty. Sugar skull sachets are great Cinco de Mayo crafts that you can work on with your kids and your whole family.
4. Lucha Libre Mask
Lucha Libre wrestling is a famous sport and entertainment activity in Mexico. The anonymous wrestlers (luchadors) choose to identify with certain archetypes during their performance.
The colorful Lucha Libre masks are designed to evoke the images of gods, ancient heroes, and animals. Sewing a luchador mask for Cinco de Mayo is a bold and creative idea. Are you up for it? Follow an easy tutorial on how to make a Luchador mask.
5. Mexi-Embroidered Shirt
 

View this post on Instagram

 
The pretty embroidered shirt is a cute Cinco de Mayo attire for little girls and women. You can recreate this Mexican style it easily, using thread and a needle or just textile paint.
Include classic flowery details and creatively stylized thread hems. Check out the detailed tutorial on how to make a Cinco de Mayo blouse by Crafty Chicka.
6. Party Insulated Drink Sleeve
This festive fabric drink sleeve is proof that Cinco de Mayo sewing projects might be easy to craft but are never boring. The cool addition to your mugs and glasses will certainly get you in the mood for a Mexican fiesta.
Take a look at the detailed guide for sewing of an insulated drink sleeve.
RELATED: 101 Clever Sewing Projects To Upcycle Fabric Scraps
7. Festive Cinco de Mayo Dog Scarf
View this post on Instagram

 
This is an odd but extremely cute way of embracing the Mexican culture at home. Dressing up your dog would surely get you in a festive mood and put a smile on your face. And the fun part is, you can sew Cindo de Mayo scarfs for all your pets, like cats, bunnies, etc.
8. Spice Up Your Cushions With Festive Tassels
Tassels, pompoms, and other colorful decorations can bring new life into your cushions. Such a simple addition to your decorative pillowcases can turn the home vibe around.
Ready to make it awesome? This crafty Cinco de Mayo idea can be easily recreated for less than half an hour. What's best, you can ditch the sewing machine and sew all the way by hand.
9. Cinco de Mayo Fiesta Skirts
Cinco de Mayo inspired skirts are an adorable fashion piece. You can turn any old plain skirt into an article of festive clothing. The Mexican skirt design can bring the fiesta to your home, so feel free to experiment with patterns, colors, fabric, trims, and elastic cut.
10. Bottle Ponchos
These Cinco de Mayo crafts are adorable and turn any drink into a small bottled carnival. All you need is a colorful fabric and pompoms or tassels. You can sew the ponchos by hand or with a sewing machine for less than 15 minutes.
The best thing about those bottle ponchos is that they totally represent the fiesta spirit of Mexico. You can enjoy them at home for now, and also during family and friends gatherings for years to come.
11. Toddler Cinco de Mayo Fiesta Dress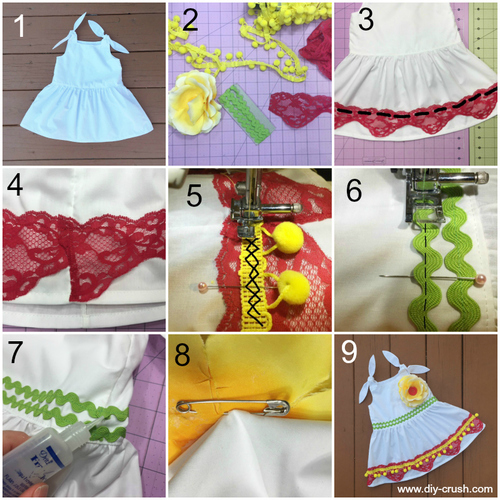 Are you up for sewing a Mexican fiesta dress for your kid? Any flowy toddler dress pattern could do the trick to create a base for Cinco de Mayo embellishments.
Alternatively, you can easily turn any old plain dress into a festive children's attire. To do that, you need colorful thread, pom poms, rick rack, and basically anything else that screams fiesta.
12. Cactus Pillow
Cactuses are one of the cultural symbols of Mexico. The cute DIY cactus cushions are easy to make and will enliven your Cinco de Mayo home. Sewing and adding such themed pillows to your cozy environment would get you in the mood for cocktails and fun festive in-house activities.
Bonus: Flower Wreath
Flower wreaths are one of the most creative Cinco de Mayo crafts. Note that this artsy project takes more time to complete than most of the other items on this list. But sewing surely will be worth it.
A wreath's wild fiesta vibes will lift the spirits of your family and get you ready for a home festivity. Check out the guidelines for sewing a perfect fiesta flower wreath.
Cinco de Mayo is a special day filled with the celebration of Mexican heritage and pride. It is a festivity of the spirit. It's important to keep our spirits higher, especially during difficult times of social distancing.
Trust me, embracing this amazing holiday and bringing the festive mood at home could be the highlight of your day, week or even month.
Which were your favorite Cinco de Mayo crafts and sewing projects? Let us know by leaving a comment below!
UP NEXT:
Do you think you can contribute to our crafty community? Join Our Ongoing Contributor Network!
Stay connected with us on Facebook, Twitter, Instagram, and Pinterest!