What to do with fabric scraps? Well, you're in luck because there are over a hundred sewing projects for you to upcycle your leftover fabric. Check out these amazing ideas below.
Special: [Free ebook] The Real Magic of Success & Abundance
RELATED: Fabric Types | Everything You Need To Know | Sewing 101
Brilliant Ways You Can Use Leftover Fabric Scraps
1. Coasters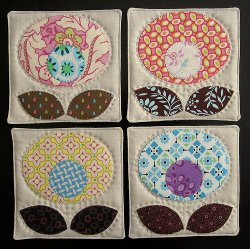 Making coasters is one of the most fun and easy DIY projects. With your fabric and ribbon scraps, you can sew a dozen of these coasters, place them in a box, and tie it with a nice ribbon to make the perfect hostess gift.
If you want to learn how to make a fabric coaster, watch this video tutorial by Brandi Frey:
2. Fabric Scrap Key Chains
These tiny key chains look more adorable when embellished with button flowers and felt monograms! And, you can also sew whatever other designs and patterns you can think of.
3. Balm Holder
Make a little lip balm holder from fabric remnants, and clip it to your key chain. Or, add a swivel clip and hook it onto a purse buckle.
Special: [Free gift] A little something for health and relationship magic…
4. SD Card Holder
Sew this SD card holder for a perfect DIY gift. Your friends will appreciate it more if you insert a blank SD card or anything camera-related.
Keep your SD card safe so you can save photos for Instagram or Twitter!
No products found.
5. Mini Zipper Pouch
This is a great sewing project using only a tiny amount of fabric remnants. It's best to use heavyweight textile scraps like denim or canvas for a sturdier finished product.
6. Tissue Holder
Easy to make, and the perfect size for slipping into a purse, this tissue holder makes for a great Mother's Day gift. Also, school-aged children can place this in their backpacks for hygienic purposes.
Special: [Free Gift] 7-Minute Freeway to a Fuller Life
7. Baby Bibs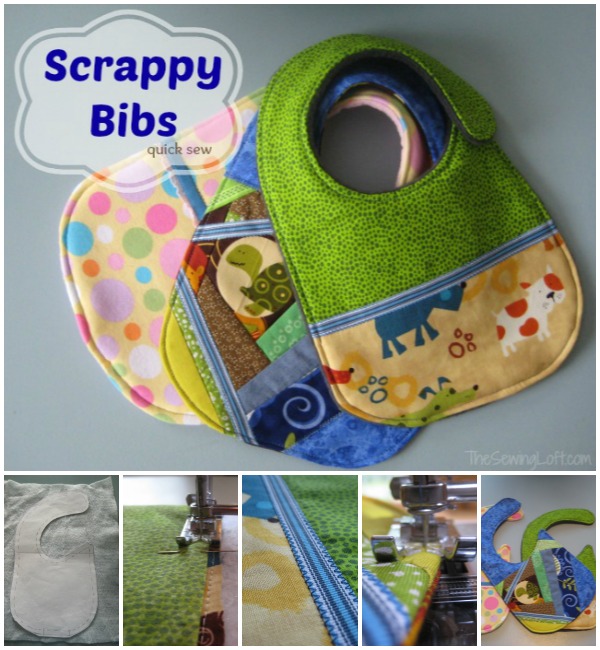 Make use of your quality fabric remnants in creating bibs for your babies. Have fun and enjoy sewing for your little bundles of joy!
8. Key Ring Chapstick Holder
This is one of the best party gift ideas! A key ring chapstick holder to hold your lipstick, lip balm, and other small essentials like pins, coins, and clips.
Remember, you're working on an itsy-bitsy fabric strip, so sew zigzag stitches on all the edges to prevent fraying.
9. Small Tote Bag
If you want a bag for your essentials like your phone, keys, wallet, and cards, here is one of the great ideas for crafts with fabric scraps! Sew this bag with a couple of zipper compartments to help you organize your things better.
Special: [Free ebook] The Real Magic of Success & Abundance
10. Baby Headbands
These cute hairpieces are perfect for any little girl. Just get some unused strips of fabric, and make this headband for your precious little girl!
Sale
Old World Christmas Hobbies Gifts Glass Blown Ornaments for Christmas Tree Sewing Machine
ORNAMENTS FOR CHRISTMAS TREE: Hand crafted in age-old tradition with techniques that orginated in the 1800s
CHRISTMAS DECORATIONS: Molten glass is mouth-blown into finely carved molds
UNIQUE GIFTS: Ornaments are all hand-painted and glittered in a series of labor-intensive steps to achieve the beautiful creations
SEWING MACHINE ORNAMENT: Traditionally designed, hand-crafted ornaments
SIZE: Ornament Dimensions in Inches: 2. 75 x 3. 5 x 1. 75
11. Scrap-Pieced Belt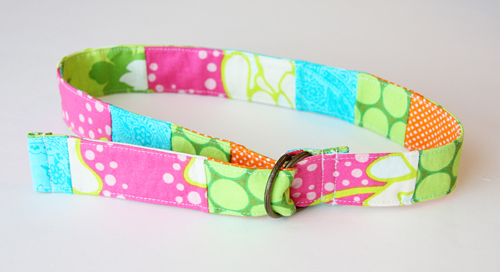 Gather fabric scraps and create a one-of-a-kind belt like this. It adds vibrant color to your daughter's outfit.
12. Summer Glasses Case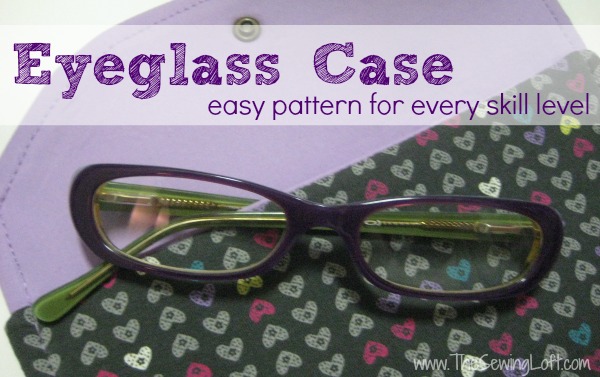 Protect your sunglasses by placing them in this case made from fabric strips. Mix and match your scraps of fabric for a fabulous sunglasses case.
13. Lampshade Cover
Upcycle your lamp shade by using fabric scraps as a cover! Sew life to it by using different fabric strip colors and patterns.
14. Tea Towel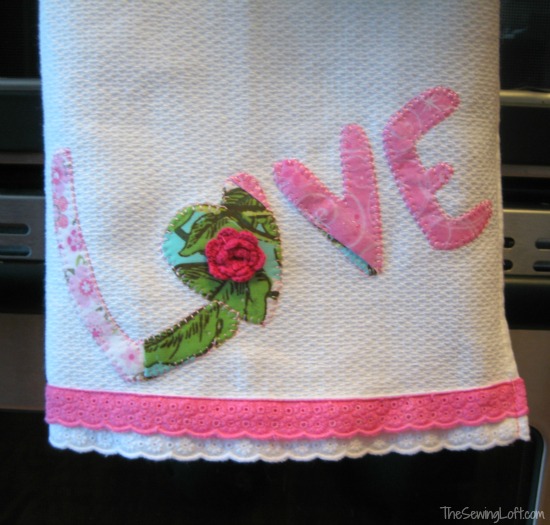 Since these towel ideas are so simple to make, sew on some nice embroidery applique to make them even more adorable. To sew your applique, use a contrasting thread and sew using the blanket stitch to highlight its decorative purpose.
15. Picture Frame
If you're looking for adorable gift ideas for your favorite couple, look no further. You can give this homey picture frame bordered by sewn fabric scraps along with a favorite picture of theirs inside.
16. Fabric Scrap Necklace
Make use of every bit of your scraps of fabric by making this handmade fabric necklace. This should be the perfect craft for silk fabric scraps or other soft and flimsy hard-to-work-with fabric scraps.
17. Fabric Camera Strap Cover
[instagram url= https://www.instagram.com/p/6xLfokR9M7/ hidecaption=true width=625]
This is one of the most clever sewing projects. Sew this for yourself, or for your photography-loving friend. Also, make this with cotton fabric scraps so it's soft and hangs easily from the neck.
18. Dresden Petal Handbag
Make this bag and create your own design using fat quarters of fabric scraps. You can use this bag in January, December, summer, or spring.
19. Mason Jar Covers
First, put your jams, jellies, and other preserved dishes in these mason jars. Then, decorate the lids by putting pretty sewn fabrics on top and securing with a ribbon tie. These are also great ideas for gifts.
20. Fabric Bowl
Before starting on this fabric bowl, you need to learn the zigzag stitch. A zigzag stitch holds the rows together as you coil the rope around to form a bowl.
21. Fabric Bracelets
Arts and crafts and fashion can go hand-in-hand! Just check out these fun, DIY bracelets made from strips of fabric. You'll enjoy making this easy and fun sewing project.
22. Birthday Banner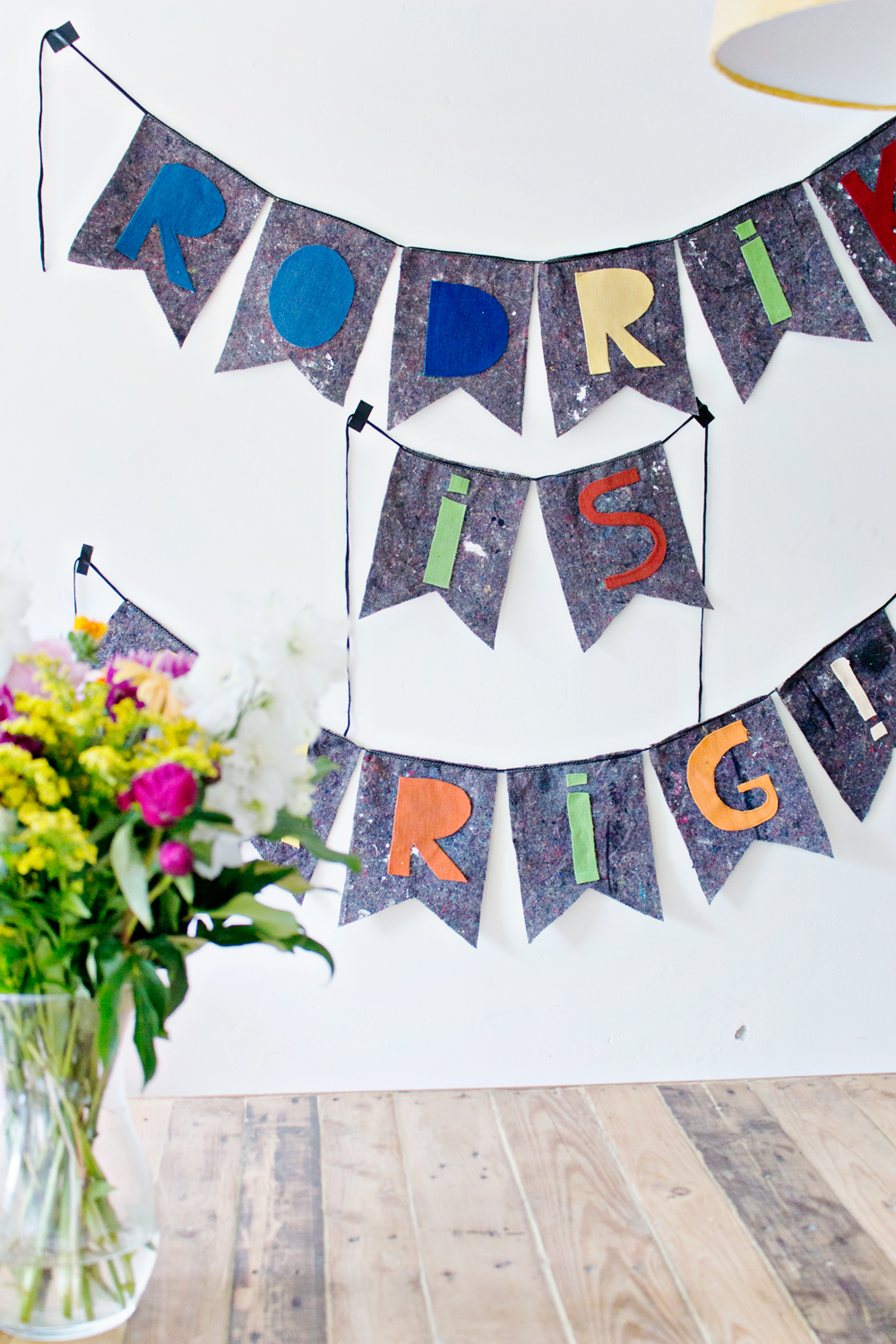 Looking for birthday decoration ideas? Then look no further! This DIY birthday banner adds some much-needed color to the celebration. Gather scraps of fabric and get your sewing machine ready to sew!
23. Tutu Skirt
Another example of style and crafts meeting, this is one of the best sewing projects for your little girl. She'll look adorable in this tutu skirt, and she'll love to play princess with it.
24. Christmas Stockings
These stockings made from scraps of fabric will put your home in a cheerful Christmas mood. You could enlarge the pattern and make the stockings any size you like.
25. Fabric Gift Tags
These DIY gift tags will add a lovely personal touch to your presents. Making these will also help you get rid of excess fabric remnants. You can use whatever fabric you have.
26. Sewing Kit
When you have scraps of fabric from other projects, don't throw them away. Instead, collect your scraps and make a mini sewing kit you can carry with you for sewing emergencies.
27. Fabric Coffee Sleeve Cozy
This coffee cozy is easy to make, and a great gift idea too, for your friends and co-workers who love coffee and hot tea. Come to think of it, this is also a great idea for using up your leftover batting materials.
28. Fabric Bow
These fabric bows are super easy! The best part about it is that you can choose your preferred size because you're the one creating it.
29. Cord Keeper
Use your fabric scraps to sew something useful like this handy cord keeper. Sew as many as you need to keep your cables at home neat and organized.
30. Fabric Flower
All you need are fabric scraps, thread, and a button to sew a fabric flower. This DIY project can serve as decorations for any celebration!
31. Napkin Rings
Dress your dining table with these simple-to-make napkin rings. Make this gorgeous napkin ring with scraps of fabric in multiple colors and textures to suit any occasion. Or, make a set to give as a special gift.
32. Fabric Scrap Scrunchies
Try your best to use up all your fabric scraps with this fantastic fabric scrap buster idea: scrunchies! They are an easy and quick way to use up those scraps!
33. Passport Cover
To sew this passport cover, you'll only need scraps of fabric, a sewing machine and half an hour of your time.
34. Sanitizer Jacket
This sanitizer jacket is a great scrap upcycling project. A DIY jacket will also make for a great Mother's Day gift or a birthday gift for any friend.
35. Satin Lined Sleep Mask
This eye mask only needs a little fabric, some patterns, and some elastic. It's also easy to sew and your hand-sewing skills will come in handy.
36. Lavender Sachets
Lavender sachets smell fabulous. For an extra classy touch, you can make them with your favorite designer fabric. It's an awesome way to use up those pretty fabric scraps, too!
37. Little Lark Lavender Sachets
Take your love for handmade lavender sachets up a notch by making these ultra-cute lark lavender sachets. They look a little bit complicated to make but they really are not.
You only have to watch out for the tiny details — the only part making it rather fussy. It's all worth it though, and it will make a great idea for a birthday present.
38. Scented Mini Bunny Pillow
These mini bunny pillows are fun to hand stitch and can be made with the smallest of fabric scraps. If you wish to deodorize your drawers or wardrobe naturally, include some dried lavender and your drawers will smell just as sweet and heavenly.
39. Scrappy Organizer
With some fabric scraps and a sewing machine, you can definitely do this in a pinch! A scrappy organizer made from fabric scraps, but one worth treasuring.
40. Scrappy Pot Holders
A potholder is extremely important, and as sewing crafts, practical and worth your time. Making potholders out of your fabric scraps is not only fun but will allow you to safely enjoy cooking your favorite treats.
41. Ruffle Necklace
Looks fabulous, despite being fashioned from old fabric scraps! A pretty cotton fabric looks more casual and perfect for everyday use.
42. Chic Fabric Leaf Earring
What's not to love about this super simple yet fashionable DIY project using only fabric scraps? Wear these cute earrings for Valentine's Day dinner, or for any occasion!
43. Owl Pillow Burp Cloths
Making burp cloths and pillows is fast and easy so, save money and make use of plain fabric scraps. You can also sew a patch on the top or decorate it with a small scrap of fabric.
You don't need to burn money on fancy baby pillows and burp cloths when you can make these baby essentials on your own. Plus, they make great gifts for baby showers — another way to save money, too.
44. Little Zipper Mouth Pencil Case
Zipper pouches are one of the best quick projects of all time! They are perfect for using up scraps, storing little things, and are super easy to create.
Here's another cute version of a handmade zipper pouch you can make from fabric scraps. Just toss in a gift card and you are good to go!
45. CD Holder
Think of the best fabric color and style combination, then sew them together according to your design. This is such a lovely idea to use your scraps — a neat holder for your stash of collectible CDs.
46. Lunch Bag
This is a very useful bag for moms made from leftover fabrics where you can place your packed lunch. Making this bag takes some time as you have to work on different sections, but the finished product is super practical and definitely worth it.
47. Sandwich Bag
This scrap bag shows there's a lot to do with fabric remnants. A reusable sandwich bag made from recycled fabric scraps will earn you a thumbs up from eco advocates.
Fill these bags with sandwiches, crackers, and any other goodies. The bag also helps keep your food stay fresh longer.
48. Fabric Scrap Basket Tutorial
It's time to make your things organized the smart and cozy way! Declutter tiny stuff at home while taking care of your fabric remnants with this scrap-buster textile craft.
49. Fabric Garland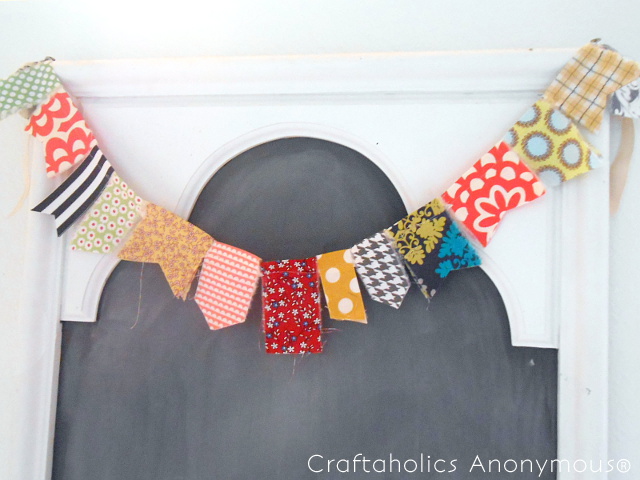 Craftaholics Anonymous gives us one of the best party decor ideas! Gather your extra fabric scraps, and sew them into a beautiful garland.
50. Kid's Slippers
These indoor slippers are so adorable, and your kids are sure to love them. Make yours like this and embellish with buttons and little fabric scraps.
RELATED: 8 Free Sewing Patterns You Can Make With Your Kids
51. Table Runner
Choose some fabric scraps to best suit your dining table to make a table runner. Also, you'll need some fat quarters of extra fabric for this.
52. Hairpins
You can craft these hairpins all by yourself! Embellish them with those lovely fancy beads and pearls to make them look more attractive.
53. Scrap Fabric Apron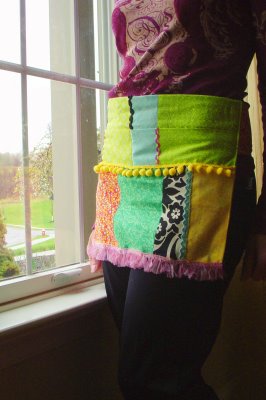 Create a stylish apron from those colorful fabric scraps! This is a lovely and useful idea you wouldn't think purposely fashioned from fabric remnants.
54. Mug Rug
Grab your favorite drink and have this mug rug ready. A perfect mat for enjoying a quick bite or a snack.
55. Bifold Wallet
If you're unsure of what to do with your quality fabric scraps, why not sew this cute DIY wallet? It will make a cool bi-fold wallet for anyone, regardless of age and gender.
56. Fabric Scraps Headband
Even a beginner sewer can make a baby headband from fabric scraps. You just need to safely choose the right fabric for your baby.
57. Gathered Clutch
You can sew this handy, feminine clutch for your keys, coins, and other small objects. Or, you can make a bigger version from scraps of fabric.
58. Scrappy Bedding
Look at what your fabric scraps can become! Fabulous and stylish beddings! But, you'll need a lot of excess fat quarters for this one.
59. Cellphone Wallet
Make this pretty phone wallet for yourself with small fabric scraps! It's easily customizable so you can make a unique piece for your own.
60. Fabric Letters
If you enjoy teaching your kids, you'll also enjoy sewing these fabric letters for them. They look pretty and make perfect educational materials for tots but they make great ideas for home decor, too!
61. Beverage Holder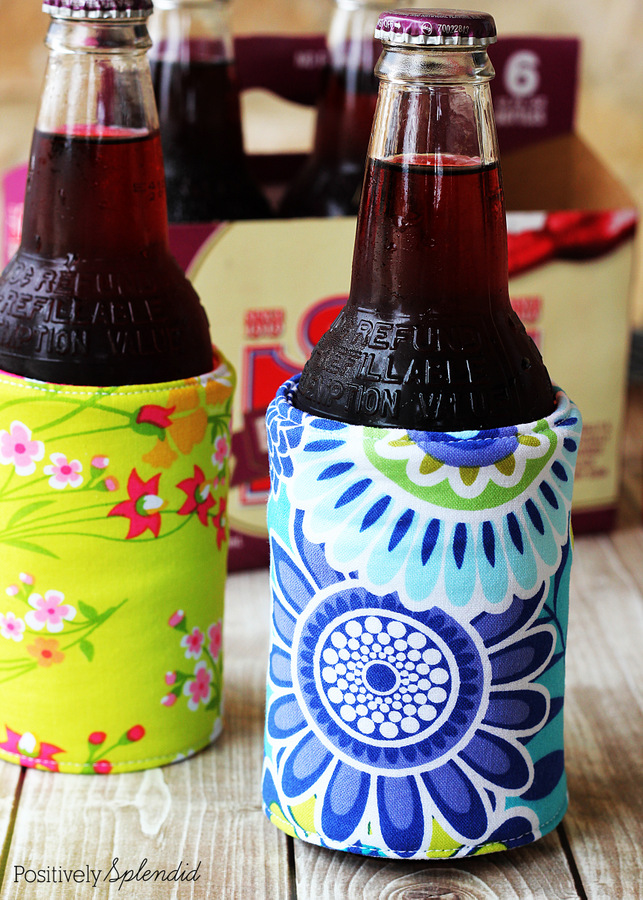 Learn to sew this beverage holder, create a lot, and use them for parties too!
62. Slouchy Sling Bag
Make a cool slouchy bag from fabric scraps! Who would have thought tiny scraps can make a unique bag design?
To make this fabulous bag, learn how to do this simple quilting first.
63. Circle Zip Earbud Pouch
Make this tiny zippered scrap bag for your clips and other small objects. Such a lovely idea, right?
64. Throw Pillow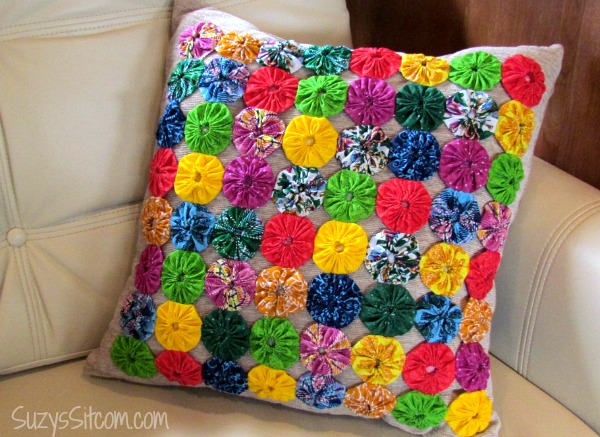 This yo-yo bench pillow is one of those perfect ideas for summer and spring! If you want to give your home some lively colors, get into your scraps of fabric and start sewing.
65. TV Cover
Don't you want to give your TV some love? Consider a cover made by yourself from fabric scraps. It looks neat and more organized plus it helps protect your TV from moisture and dust!
66. Handmade Pantyliner
Again, this fabric scrap-busting idea will give you a nod of approval from eco buffs. These tiny, thin daily liners are easy to make and will give you a comfortable feeling, without adding paper products to the landfills.
67. Fabric Scrap Wreath
If you have fabric scraps in red, white, and blue, you can sew those pieces into a cozy 4th of July wreath. You can also use different patterns and colors to make wreaths for different occasions!
68. Diaper & Wipes Clutch
A clever sewing project for your wipes and baby's diapers. Any self-proclaimed cool mom should have this handy carrier on their diaper bags.
69. Flip Flops
Do you have a plain old pair of flip flops that could use a second life? Then use your extra strips of fabric to give them a touch of color. They'll look perfect for your summer beach getaway.
70. Bookmarks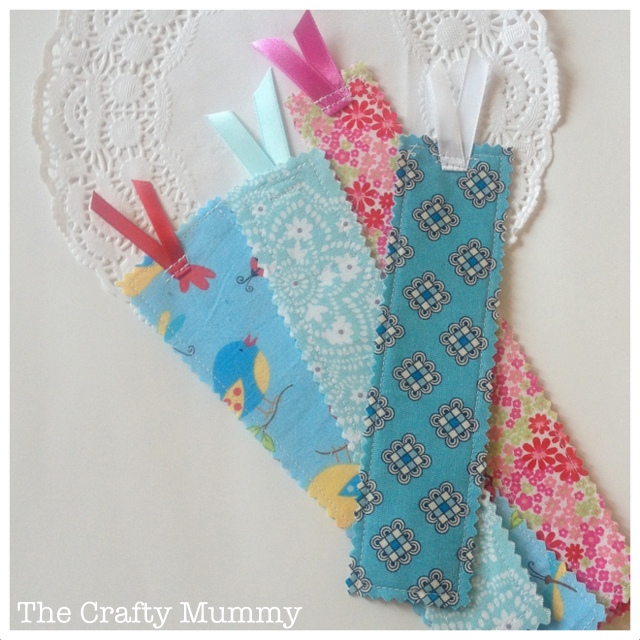 If you're a sewing beginner, this might be the project for you! These easy-to-make bookmarks are fun and useful, making your reading all the more exciting.
71. Baby Blanket
Get into quilting and start with your scrap fabrics! You can use different quilt patterns to sew a wonderful, warm quilted blanket for your baby.
72. Pencil Case
Learn how to make this pencil case and sew your own from those useful scraps of fabric! You can also use it as your makeup organizer.
73. Pillow Case
Be creative in sewing your pillowcase by using this fun idea. Using fabric scraps for this sewing project gives it a boho vibe, don't you think?
74. Fabric Scrap Skirt Tutorial
Make use of your quality scrap fabrics by creating a fashionable skirt like this one. It's fun and you'll love it because it's unique.
75. Pants Extension
Make your kid's old pants look new, unique, and stylish by simply sewing extensions on them.
76. Map of the USA
Feeling a bit patriotic? Now you've got an idea! The map of America. So, if you're fond of doing crafts like this, you can start yours now.
77. Grocery Bag
Give yourself a stylish look by having this stylish grocery bag. Have your fabric scraps, thread, and sewing machine ready.
78. Bath Towel With Scrap Fabric Bias Binding
These beautiful, embellished bathroom towels can be made out of your old fabric scraps. Make the upgrade by sewing bias binding around the towel edges.
79. Patchwork Twirler Dress
These dresses just show how incredibly you can turn those scraps of fabric into fashion! Who says fabric scrap arts 'n crafts can't be stylish?
80. Altered Oven Mitts
If you want everything inside your kitchen to look awesome, try this altered oven mitts idea. They are comfortable to wear, and you'll love them.
81. iPod Sleeve
If you have strips of scrap leather, then you can make this iPod sleeve. It's easy to make and very useful for your iPod or gadgets.
82. Puppy Love Dog Bandana
What a brilliant gift to make for your dog! A cute bandana made from fabric scraps for your adorable pup.
83. Scrappy Floral Skirt
Add some DIY flair to your plain old skirts. With some strips of fabric scraps, you can make any old garment fashionable!
84. Deconstructed Tribal Shorts
Like skirts, denim shorts also benefit from some much-needed fabric scraps of color. Make whole new clothes by a simple patchwork devised as an accent in this brilliant sewing idea.
85. Patchwork Belt
|

Want to add some style to your outfit? Pick up some scraps of fabric and start sewing this patchwork belt!
86. Tattered Flowers
You should know how to create ruffles first, so you can create these tattered flowers.
87. Denim & Fabric Scrap Pots
Dress up your flower pots with these fabric flower pot sleeves. This would make a great gift for teachers. You can also give this to your kid to help him get better organized.
88. Scrap Fabric Tray
|

This tray is an easy sewing project from scraps any beginner sewer can make.
89. Half Square Triangle Coin Purse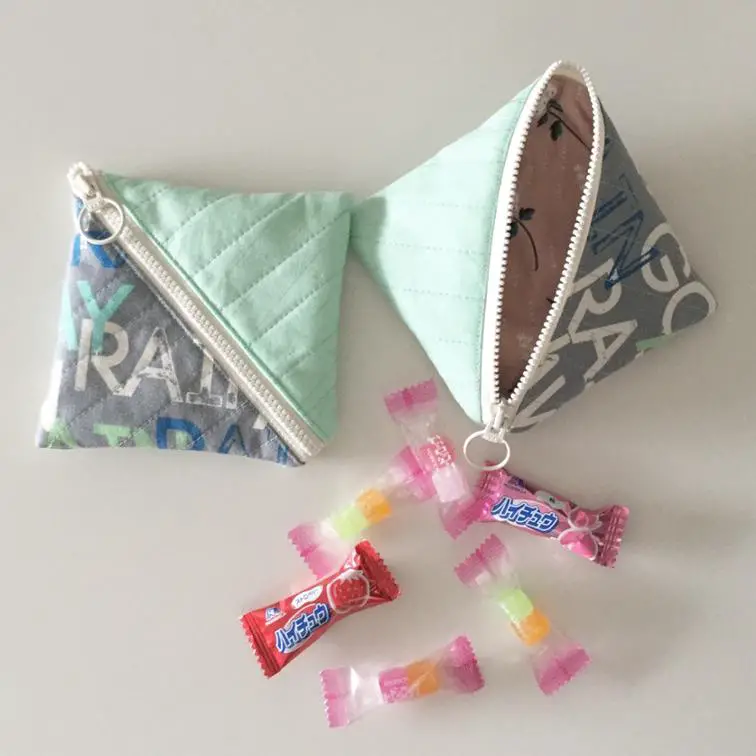 We love this idea of a zipper-designed coin purse from fabric scraps. You can make as many as you want and you give these as gifts.
90. Fabric Scrap Bow Jar
Upcycle your used jars and fabric scraps into something stylish and useful like this fabric scrap bow jar.
91. Pieces Dolls
Learning how to make a doll out of your fabric scraps is brilliant, and something that your little girls will adore.
92. Sweet Floppy Bunny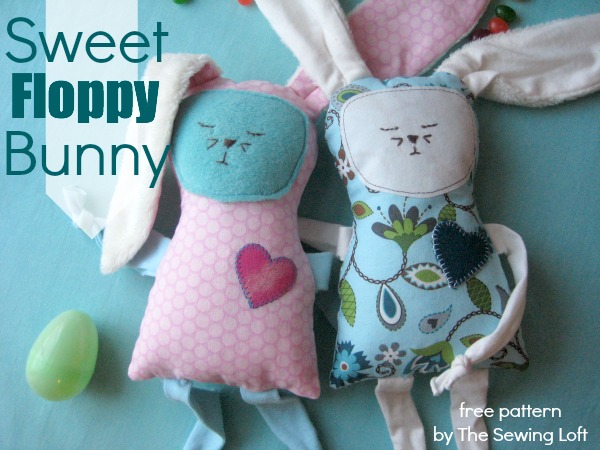 A fun thing to make, and such a wonderful plaything for your kids. Cute and sweet floppy bunny pattern deserving of a designation as your baby's first toy.
93. Scrap Fabric Rugs
Get rid of scrap fabrics by making cute rugs that are braided and coiled. You can always make a larger rag rug by adding more coils.
94. Hair Flower Ribbon
This flower hair accessory can be attached to a barrette, headband, clip, or hair elastic. While this isn't a sewing craft, it's still a fantastic scrap busting idea you can have fun with.
95. Scrappy Fabric Eggs
Isn't it fun to look at these adorable DIY Easter eggs? Well then make yours now and enjoy it!
96. Drawstring Bag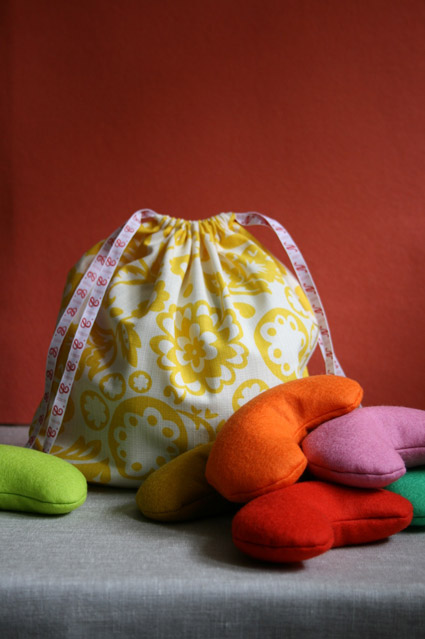 Sew this drawstring bag from your stash of fabric scraps to carry things you need as you're on the go.
97. Keyboard Wrist Rest
This keyboard wrist rest is perfect for those who are always in front of the computer and are typing a lot.
98. DIY Bunny Pillows
For a quick and easy project for Easter, try these DIY bunny pillows. They make great ideas as basket stuffers and scrap busters, too.
99. Food Covers
Creating food covers is a wonderful and economical way to use your fabric scraps. No more plastic cling wraps you simply throw away after every use.
100. Ruffle Butt Onesies With Letter Appliques
Create a new look for your baby onesies by attaching a design to it using fabric scraps. Ruffle butts for your baby girls and letter appliques for your boy… Or, you can add the letter applique too on your girl's ruffled onesies.
101. Patchwork Dress
With the right combination of fabric, you can come up with this fun and fantastic dress style.
I can say this is an easy project, but be guided. You will have to use certain types of stitching to go with a type of fabric.
Still hungry for more fabric scraps ideas? Watch this video about Projects Using Scraps. Special thanks to National Sewing Circle:
Fabric scraps shouldn't just be thrown away and forgotten. You can still sew a lot of lovely patterns and designs from fabric remnants. So get to sewing!
Do you have any other ideas for recycled fabric scraps? Please let us know in the comments section below.
UP NEXT:
Editor's Note: This post was originally published in May 2016, and has been updated for quality and relevancy.