Summer is almost here, so how can we protect ourselves from sizzling hot weather and harmful UV rays? With style! I'm excited to share with you some handy tips and tricks on how to sew your own sun hat for the warm season.
RELATED: 33 Stylish Summer Clothes For Women You Can Sew
Explore Artsy Sun Hat Designs for Warm Summer Adventures!
1. Crochet Sun Hat
How cute and stylish is this crochet sun hat? I can't help but fall in love with this big feminine beach and pool accessory. It takes an adventurous spirit to take on this adorable straw hat embellishment project. Moreover, you don't need any special crochet skills to turn a plain hat into a wow hat.
Supplies:
Yarn (two colors)
Crochet hook
Transparent glue
Tapestry needle
Sewing materials
A big sun hat
In just a few hours of dedication and hard work, you can bring this DIY project to life!
2. Floppy Hat
It's amazing how one hand crochet straw hat can change your whole look! Everything about this DIY summer look screams fancy. What's even better, this hat is extremely easy to make, no matter if you are experienced or new to crocheting.
Supplies:
Crochet raffia yarn
3.5mm crochet hook
Tapestry needle
Flower decoration (from an old hat, buy from a craft store or make a DIY flower)
Are you ready to take on this project? Check out the full tutorial on how to crochet this amazing DIY floppy hat by Craft Passion.
3. Bucket Hat For Summer
Here we have a wonderful bucket hat that is perfect for mountain adventures and fishing expeditions. What I love the most about it is it's made out of an old shirt. So first, it's saving money on materials, and second, it's reusing instead of disposing of fabric!
Supplies:
Fabric (Old shirt, tee or denim pants)
Sewing materials
Follow the tutorial of FeelingCrafty and make this summer hat in any color, with any thick material you have available.
RELATED: 25 Stylish DIY Summer Tote Bags You Can Sew
4. Pom Pom Sun Hat
When classic sun hats meet creativity, we get this amazing DIY summer hat. Summer is hot and playful, so bringing the fiesta to your outfit is always a fantastic idea! Experimenting with colors and even lace to glam up a regular straw hat will awake your vacation spirit.
Supplies:
Floppy hat
Fabric glue or sewing materials
Pom poms or pom pom fringe
To recreate this effortless look, follow the easy tutorial by Mimosa Lane. And enjoy your pom pom summer hat!
5. Floral Trucker Hat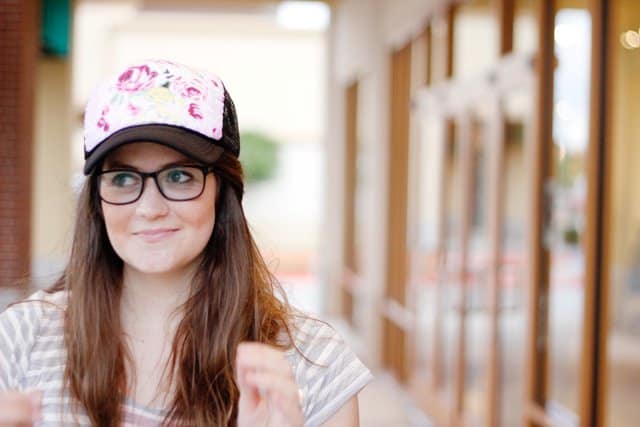 This floral take on caps is really impressive! To recreate the feminine look you would need a plain trucker hat and adorable fabric. The sewing process is really basic and simple, making this design perfect for beginners. In no time you can upgrade any standard cap to a cute sun hat with a visor.
Supplies:
Plain cap
Floral fabric
Sewing materials
It's time to get to sewing! Follow the easy tutorial of See Kate Sew to copy this cute trucker hat embellishment.
Are you a DIY enthusiast? Here is a no-sew tutorial on how to weave a straw hat by Handmade Elen:
Sun hats are among the fanciest must-have accessories of the summer season! You can start those projects from scratch or simply embellish cheap or old plain hats. I hope we got you inspired to start working on your own DIY hat.
Which were your favorite sun hat ideas and designs? Let us know by leaving a comment below!
UP NEXT:
Do you think you can contribute to our crafty community? Join Our Ongoing Contributor Network!
Stay connected with us on Facebook, Twitter, Instagram, and Pinterest!