If you love sewing, stay home time is a great opportunity to explore crafty ideas. We have so many projects for you to work on! Time to get excited and check out our amazing collection of free girls dress patterns to sew for all ages.
RELATED: 15 Plus Size Dress Patterns Perfect For Spring
In this article:
Fabulous Dress Patterns for Girls of All Ages
Cute Dress Patterns for Babies and Toddlers
1. Pillowcase Dress
This pretty dress for girls is a crafty sewing project that your kid would fall in love with. The pillowcase outfit is a stylish attire for playful kids of all ages.
Supplies:
2. The Party Dress
The cute and fancy party dress would turn your kid into a superstar. Its sophisticated design is eye-catching and you would be surprised at how easy this dress is to sew.
Supplies:
3. Ruffle Dress Attire
An easy to sew ruffled design that will give you cuteness overload! The free toddler dress pattern would help you get your kid ready for summer.
Supplies:
4. Ruffle Front Circle Skirt Dress
Let's be real, the coolest thing about this dress is the cute ruffles. The second coolest thing about it is that the original pattern literally uses an adult blouse as a base.
So if you find yourself in a situation of having an old blouse that you do not need, instead of throwing it away—turn it into a pretty piece of clothing for your little girl!
Supplies:
5. Infant Peasant Dress
Infants are adorable, especially when you dress them up in cute outfits like this beautiful Peasant dress.
If you have a 0-3 months old kid, you are in luck because this baby girls dress pattern is absolutely free and comes with a detailed sewing tutorial.
Supplies:
6. Girls Tiered Ruffle Dress
Your adventurous toddler would absolutely rock this dreamy layered attire.
The cute outfit does not require any advanced sewing skills. It is extremely easy to sew, as long as you follow the instructions and the free girl dress pattern.
Supplies:
7. Sweet Rose Dress
This is one of the cutest dress patterns for girls. The flowy outfit is extremely comfortable, so your little enthusiast can run around freely and make precious childhood memories.
Supplies:
8. Wrap Skirt Onesie
Glam up your baby's onesies with this easy to sew wrap skirt. It's easy to take it on and off, so you can turn every single onesie into a princess dress.
Supplies:
Adorable Girls Dress Patterns for Adventurous Kids
9. The Katy Dress
This outfit is all about being casual but classy. One thing is for certain, your little girl would look like a star in this pretty knit dress.
Supplies:
10. Tulle Sweatshirt Dress
Upgrade your kid's playful sweater or blouse to an adorable everyday dress. The tulle girls dress pattern will certainly make your child stand out.
Supplies:
11. Shirt to Dress Girl Outfit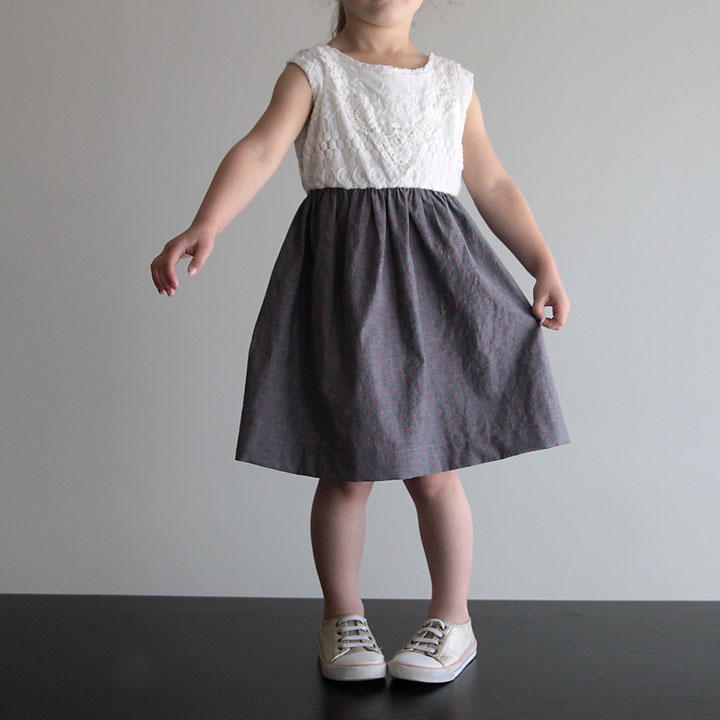 If you prioritize comfy clothes on top of anything else, then this is the perfect dress for your girl. Making this dress is a breeze because all the materials you need are a cute top and some extra fabric.
Supplies: 
12. Play All Day Dress
As the name suggests, this flowy dress is perfect for a play date! In this comfy outfit, your girl can get wild and free during summer vacation.
Supplies:
13. Racerback Dress
The easy to sew racerback dress is an adorable addition to any little girl's wardrobe. This children dress pattern will help you make a playful outfit perfect for summer adventures.
Supplies:
14. Knot Dress
You want to sew a pretty and exciting dress for your little girl? Try with this adorable knot dress to make your princess shine.
Supplies:
RELATED: DIY Tartan Dress Tutorial
Teen Spirit Dresses for Young Ladies
15. The Nyssa Dress
This beautiful attire is the perfect dress for teenage girls and grown-up ladies with a wild spirit. No additional decorative needed to pull off the youthful everyday glam.
Supplies:
16. Greek Goddess Shirt Dress
Bring the plain everyday shirt to another level. Your teen is just a few basic stitches away from looking extra stylish with this dress design inspired by Greek mythology!
Supplies:
17. Mod Shift Dress
In this mod shift dress, your teen would look elegant and classy. The pristine outfit is simple, yet it would bring all eyes on the girl who wears it. Any modern print fabric would do miracles with the pattern.
Supplies:
18. Corduroy Overall Dress
Embrace this stylish everyday overall! Its simplicity and polished vibes are crushing the dress-up game for teens and young adults.
Supplies:
Pretty Dress Patterns for Exquisite Women
19. Wear Everywhere Knit Dress
This may be a beach dress but it doesn't mean you can't wear it anywhere. It's so easy to make, even beginners can do it.
Supplies:
20. Swing Dress
Make your own swing dress with an easy sewing pattern! The non-constricting garment would make you feel extremely homey.
Supplies:
21. Tee Dress
A big pro of being a sewer is you can just take a girls dress pattern and turn it into an outfit you can wear anywhere. Like this comfy everyday dress.
Supplies:
22. Lace Dress
There's a fine line between chic and elegant but this gorgeous dress does both. The lace dress is a nifty garment you can wear when you go out for a walk or get invited to a cocktail party.
Supplies:
23. Jersey Summer Dress
As summer is coming back around, this youthful easy to make dress is a must-have in your closet. This design is suitable for all ages, so you can sew matching dresses for your little ones as well!
Supplies:
These creative sewing patterns are a hit! So many dresses, so many styles, it's easy to find at least a few gems to match your personal taste. Hop on the DIY trend now and make the best of your time at home.
Did you love the girls dress patterns as much as we did? Let us know which was your favorite in the comments section below!
UP NEXT:
Is sewing your favorite hobby? Join our Contributor network and WRITE FOR US!
Follow us on Facebook, Twitter, Instagram, and Pinterest.