Get the best hand embroidery designs and patterns here for your own creative inspiration! If you're looking for something to keep busy with on a lazy summer or autumn afternoon, these neat hand embroidery design patterns are what you're looking for. Whether you're a beginner or worked on quite a few patterns, you'll find some hand embroidery designs you'll love right here. Help yourself to these adorable and cool hand embroidery patterns!
Most Popular Hand Embroidery Designs for Your Inspiration!
1. Pineapple Hand Embroidery Pattern
You will be using several types of embroidery stitches in this pineapple hand embroidery design like stem, stretch, and blanket stitch, but you can also give it your own style. This colorful and cheerful design should be lovely on pillowcases, tote bags, denim clothing, and quilt blocks.
2. Boho Crafts Hand Embroidery Designs
I can just imagine these hand embroidery designs on my skirt for a boho chic look. You can experiment with your colors, but I sure am partial to this pastel selection. This impeccable design is really simple, with basic seed, chain, back, and split stitches.
3. Redwork Towel Traditional Embroidery
This hand embroidery design looks really easy and straightforward, but its simplicity just makes it all the more endearing. You can simply apply chain and stem stitches and a herringbone stitch for the border. Its rustic charm will look lovely on aprons, tablecloths, and napkins.
4. Forest Hand Embroidery Design
Make simple and plain fabric look interesting with this simple yet fresh forest and cabin in the woods design. This should also be perfect on linens, tablecloths, napkins, aprons, and perhaps pillowcases.
5. Kaleidoscope Hand Embroidery Project
Seems complicated and intricate, but trust me, this kaleidoscope hand embroidery design is flawlessly straightforward. Your handiwork for this pattern certainly deserves a spot among your framed wall decor.
6. Squid Love Embroidery Pattern
Don't you find this eerily beautiful woman and squid design intriguing? You will be using much of the satin stitch in this design for a compact pattern. This should make it to my living room wall decor for guests to admire, or perhaps on a nice shirt for my friends to go nuts over!
7. Under The Sea Embroidery Design
I'm loving this simple yet neat under-the-sea embroidery design. You will be able to practice different kinds of stitches in this design. For example, bullion knots really makes the sea anemones pop. This should look fantastic on pouches, tote bags, and hankies, too.
8. Four Herbs Embroidery Design
If you're a green thumb and a cook who loves growing and cooking with herbs, you'll adore this hand embroidery design. Don't you just love this fresh design with realistic stitching?
9. Floral Hand Embroidery Design
You'll love this dainty flower bouquet embroidery design on your handkerchief, clothing, or any one of your creative works. A back stitch, chain stitch, lazy daisy stitch, and French knot stitch will make this hand embroidery design.
10. Fireworks Hand Embroidery Pattern
A simple yet eye-catching embroidery design is sure to give any clothing a statement. Work out a running stitch and play with colors in this pattern for a true fireworks hand embroidery design.
11. Satin Stitch Flower Hand Embroidery
Work out satin stitches in this flower embroidery pattern for its wonderfully solid design. With an impeccably elegant design in this pattern, it sure deserves a spot on any fashionable clothing piece.
12. Flower Bouquet In Garden Sprinkler Embroidery Design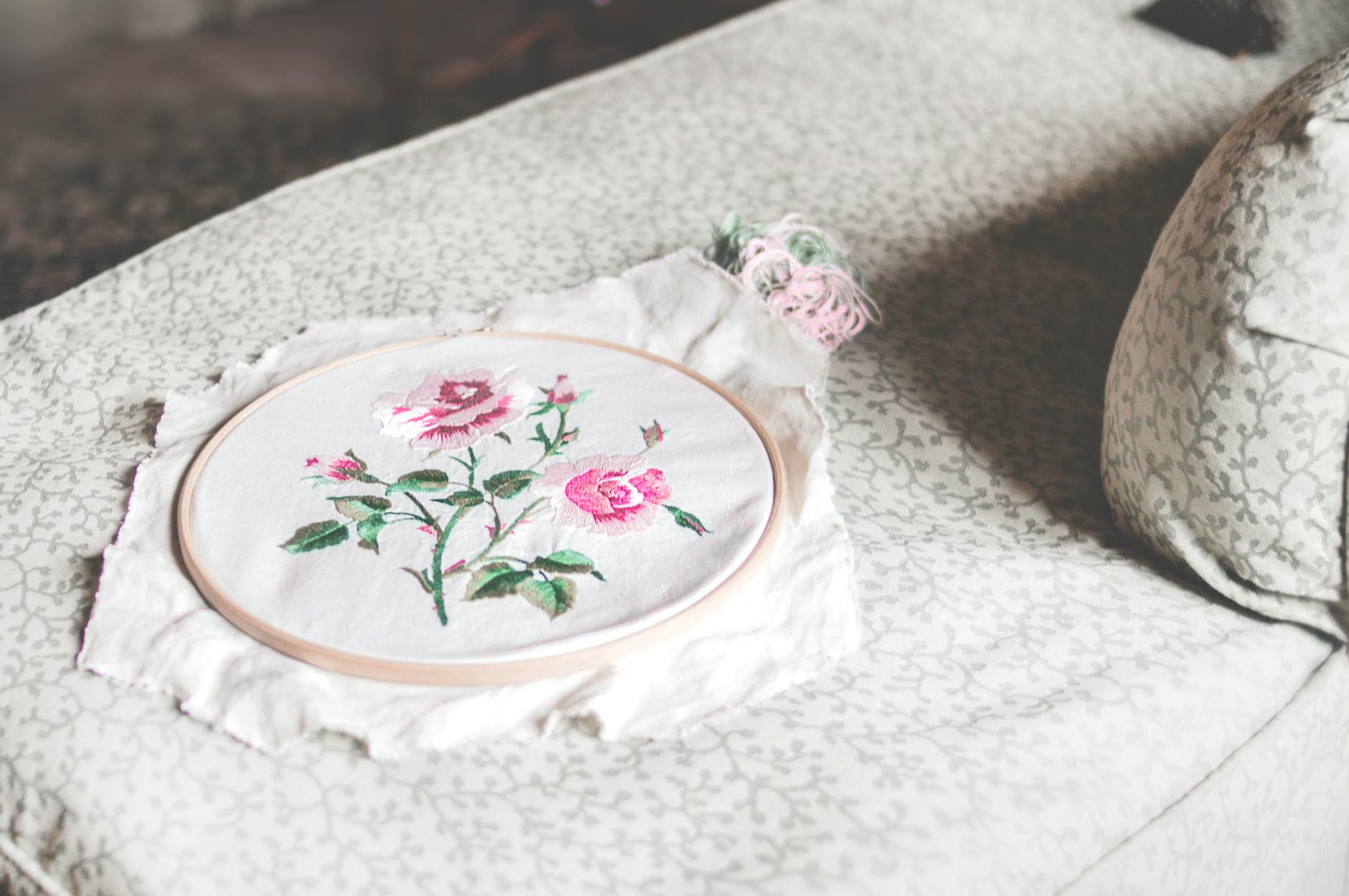 You might think the buttonhole stitch challenging, but with practice, you'll find this stitch amazing on flower bouquet designs. Apply this neat flower bouquet to any of your plain fabrics.
13. Wildflower Hand Embroidery Design
Imagine running your hands over this delicate and elegant wildflower hand embroidery design. It sure did remind me of easy breezy summer days and this design on my pillow should be perfect for my outdoor furniture.
14. Full Circle Embroidery Pattern
A perfect pattern to work on for embroidering beginners where you can apply different kinds of stitches to better your skills. All basic embroidery stitches seem to be employed in this full circle embroidery pattern great for both clothing and crafts.
15. Retro Birds Hand Embroidered Tea Towel
Simple designs can never be outdated, and these cute birds in a tree design is just adorable. You can incorporate several embroidery stitches in this design, like the lazy susan, back, and chain stitches.
16. 'Winter Joy' Lovely Anemone Wreath Pattern
You'll love this elegant and lovely anemone wreath floral design perfect on a fashionable boho-chic piece of clothing. Satin stitches and French knot stitches in neutral tones make this elegant and lovely embroidery pattern.
17. Flowers And Hummingbirds Hand Embroidery Design
You'll be working a lot of satin stitches with this flowers and hummingbirds embroidery pattern. This embroidery pattern should be lovely on pillowcases and even clothing with the intricate and elegant details.
Follow this fishbone stitch video tutorial for your own hand embroidery design projects:
Weren't these hand embroidery designs just dainty and adorable? Hand embroidery has been around for ages and is certainly here to stay. Despite the convenience of machine embroidery, nothing beats the work of your own hands. I, for one, would love nothing else to do on a lazy day but to sit on the porch and work on some fancy hand embroidery designs at my own pace. I'm sure, these designs will make an embroidery hobbyist out of you. Discover or improve your embroidery skills with these flawless yet classic designs!
Eyeing a hand embroidery design to work on for the weekend? I'd be delighted to know about your choice. Do share your thoughts about it in the comments section below!
Up Next: 20 Easy DIY Sewing Projects You Can Make in Less than 5 Minutes | Beginner's Tutorial 
Don't forget to follow us on Facebook, Twitter, Instagram, and Pinterest!
Editor's Note: This post was originally published on September 11, 2017, and has been updated for quality and relevancy.