I was looking at some patterns when I came across these wonderful Christmas ornaments to sew. Then, I realized if I am going to make something for the season, it should be Christmas ornaments to decorate my home and adorn my Christmas tree. I was thinking my daughter and I would enjoy sewing sparkly things together. These Christmas ornaments patterns and tutorials I've collected make excellent easy sewing projects for beginners. And, when the holiday is over, you can stow away these decorative crafts in a box so you can still use them for next year. So, create as many of these simple Christmas ornaments you can, and you will be ready for Santa in no time!
Easy Breezy Christmas  Ornaments to Sew This Holiday
I remember the first time I decided to make a Christmas sewing project. The tutorial and pattern I tried were so overwhelming. So I really had to keep at until I got it all done. Today, I will be sharing lots of wonderful patterns and tutorials for Christmas ornaments that every beginner can make. Sewing crafts don't have to be intimidating and complicated. Keep it simple with these easy breezy Christmas ornaments you can decorate your home with.
1. Snowman Ornament
You can make snowman ornaments out of scrap fabric and with an easy sewing technique. Because of its small size, you can make this snowman ornament in bulk and use them as tree trimming, gifts, or present accents.
2. Fresh Mint Candy Cane Ornament
Give your Christmas tree a twist of a sweet treat with this fresh mint candy cane ornament. They are so easy to make you can make enough to cover your whole Christmas tree.
3. Santa Hat Ornament
Add some personal touches to your Christmas tree this year with these easy Santa hat ornaments! It is a wonderful DIY to make with kids this Christmas. Making more of these little Santa hat will give a unique style to your decorations! They are sturdy and lightweight, so there's no need to worry about breakage. These little ornaments are sure to brighten up your Christmas morning!
4. Felt Tree Ornament
Looking for an easy Christmas sewing project for kids is challenging and can be intimidating. However, with a little cooperation and guidance, these adorable and simple DIY felt tree ornaments are the perfect holiday projects to make with kids. It requires minimal sewing, and making them is quick and easy. I'm sure kids will love to see their masterpieces on the Christmas tree.
5. Needle-Felted Penguin Ornament
These adorable needle-felt penguins will be the newest star of your Christmas home decor. Place them on your mantel or a tabletop vignette. You can also finish them with a loop to hang on your Christmas tree.
6. Little Baby Jesus Ornament
If you're new to making Christmas ornaments, then this little baby Jesus ornament is the perfect project to start. You will only need felt, glue, and some thread to make your own sweet baby Jesus. It's so easy, you can make dozens. These cute baby Jesus ornaments are too adorable to resist. It'll look great on Christmas tree, and can be a perfect DIY gift too!
7. Felt Ornaments with Decorative Machine Stitch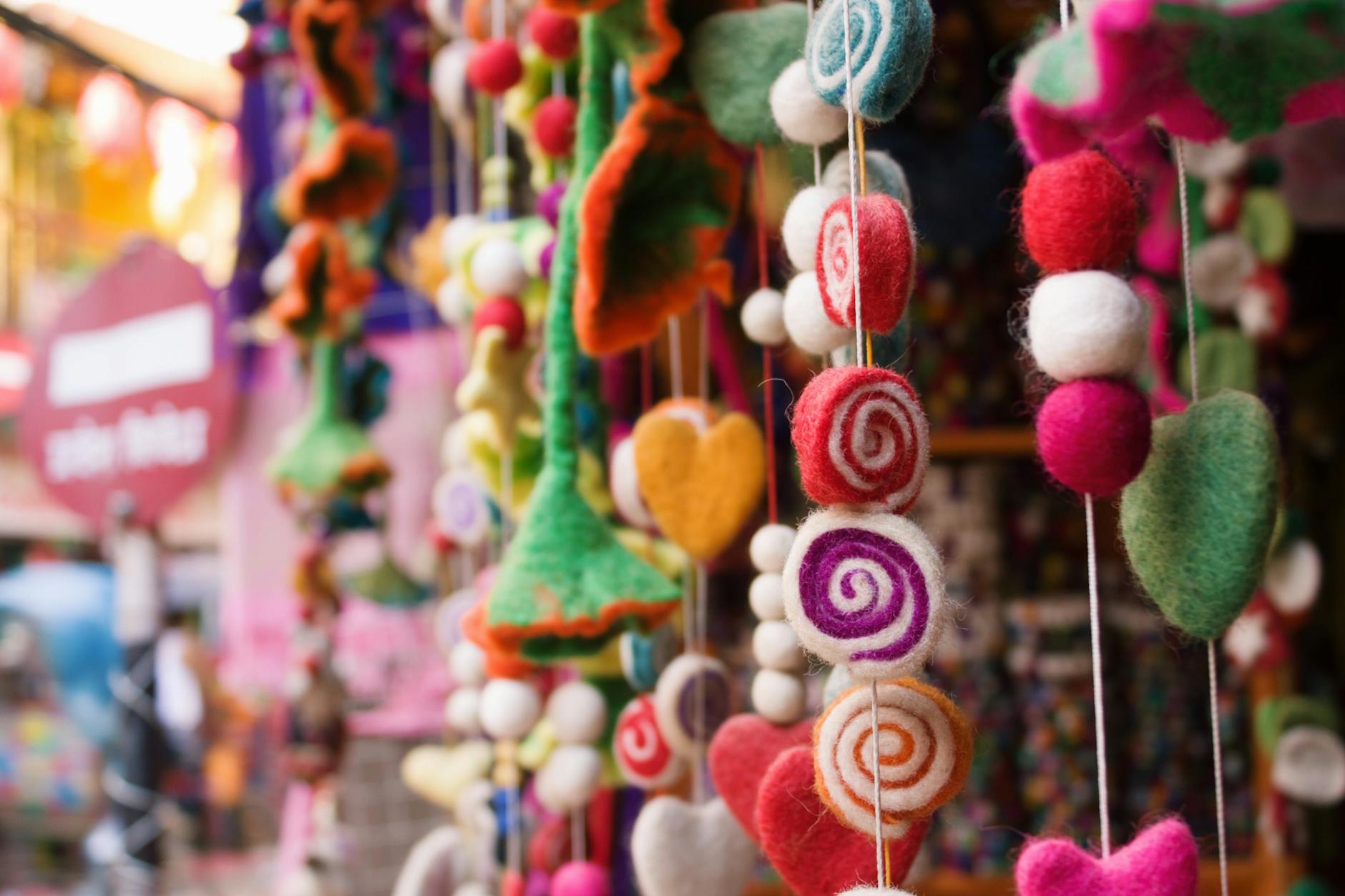 These felt Christmas ornaments with decorative machine stitches are so quick and simple to make you will fill your Christmas tree with them in no time. You can create your own unique patterns and shapes! The decorative stitching is not only cute but will also let you try out some of the fancy stitches on your sewing machine. This pretty felt ornament make great gift tags, too.
8. Fabric Christmas Tree Ornament
You can use your scrap fabric to sew this Christmas tree ornament with three-dimensional patchwork that can stand up by itself. You can display it on shelves beside your tree or add a ribbon to hang it up.
9. Holiday Dove Ornament
Brighten up your Christmas decoration with this creative holiday dove ornament that will add a touch of peaceful beauty to your Christmas tree. This ornament is simply elegant and will totally add a festive touch to your home. You can also customize this adorable DIY dove ornament by choosing the fabric you like. You can add extra details like adding petals or beads.
10. European Stocking Ornament
Trim your tree this holiday with this simple European stocking ornament! This tutorial will teach you how to put together an adorable adornment. You can place it anywhere in your house that needs some Christmas cheer!
11. Scrappy Pentagons Christmas Bauble
Add a rustic DIY ornament to your Christmas tree this year with this scrappy pentagon bauble! This will be the brightest and most distinct in your collection of ornaments. This can also be an excellent scrap-busting Christmas sewing project to make. Its unique shape of multi-colored fabric scraps will make it stand out from the rest.
12. Elf Boot Ornament
Elf boot ornaments are the perfect last minute Christmas ornament this year! It comes together very quickly. You can use this as a gift accessory that will add charm to the pile of gifts underneath your Christmas tree. This is such an easy sewing craft to make during the season. Since this elf boot ornament is stuffed and sewn, you don't have to worry about breakage!
13. Easy Embroidery Hoop Christmas Ornament
This embroidered hoop Christmas ornament is a sure-fire way to make your holiday festive in no time. It's a so sew easy sewing project to make that looks very simple, rustic, and truly perfect for Christmas. You can add this to your Christmas tree decor, or give your friends and family a DIY embroidered hoop Christmas ornament gift.
14. Felt Christmas Mushroom Ornament
Christmas decoration always features the same old characters and motifs. If you want to make something different, you can add a touch of woodland fun to your Christmas tree with this mushroom ornament! It's unique and quirky, plus, it's so easy to make!
15. Hogwarts House Crest Ornament
If you are a Harry potter fan, you'll love this Hogwarts house crest ornament. Isn't it cute and unique? Add magical touches to your tree your little ones will love and adore! It is also great for beginners and you can make them with your kids.
16. Stuffed Christmas Tree Ornament
Create adorable ornaments out of fabric scraps. It is easy and sure to be a hit in your family! This ornament can be customized with pretty beads or you can even place a star on top. You can also transform it into a standing Christmas decoration.
17. Mini Mittens Ornament
DIY Christmas ornaments make a lovely addition to your tree. If you make this mini mittens ornament for Christmas, many would love and adore yours for its creativity. This ornament is customizable as a Christmas tree decor, embellishment on your next sewing projects, or it can accessorize a wrapped Christmas present!
18. Felt Pinecone Christmas Ornament
This felt pinecone Christmas ornament will add a beautiful natural touch to your Christmas tree. This will be a lovely gift for friends and family.
19. Scrappy Christmas Bulbs
Sewing for Christmas usually means ending up with lots of colorful patterned and holiday-themed fabric scraps. Don't think they're all going to go to waste because you can use those scraps in making this Christmas bulb ornament. This tutorial will help you create scrap fabrics into cute DIY ornament!
20. Holiday Yo-Yo Ornament
You can make this holiday yo-yo ornament with your kids because it's simple, quick, and fun to make! This ornament is great for beginners or if you want to teach your kids how to sew. I'm sure you and your kids will love hanging your very own DIY Christmas ornaments.
21. Highland Hot Air Ornament
This Highland hot air ornament is a cute and unique ornament to decorate your tree with. The tutorial will teach you how to make your own DIY hot air balloon, no special materials needed.
22. Doily Snowflakes Ornament
If you're looking for easy sewing and elegantly festive Christmas ornaments, this doily snowflakes ornament is perfect! If you have some simple doilies and spare felt in your home, transform them into this unique and elegant DIY Christmas ornament. This is one of the best sewing project ideas to use up scrap fabrics this holiday.
23. Snowman DIY Ornament
This snowman DIY ornament is a cute project to make with your little helper. You can use any scrap felt from your stash. The cute size of this Christmas tree ornaments makes it the perfect addition to your home decoration. Have fun creating this snowman ornament that's easy, inexpensive, and cute!
24. Fancy Embroidered Christmas Ornament
If your sewing machine has many decorative stitches, this would be the perfect time to try it out on a project. These fancy embroidered Christmas ornaments are so simple to make and you can fully decorate your Christmas tree without a sweat. This can be a great Christmas craft for kids and their friends. No need to buy tons of material, just grab some ribbons, felt, and glitter paint.
25. Pom Pom Snowman Ornament
Spread the Christmas cheer with these cute snowman ornaments! If you're looking for quick and simple Christmas ornament ideas, take a peek at this tutorial on how to make this adorable pom-pom snowman. It's fun, cute, and easy!
26. DIY Scented Ornament
Learn how to sew this DIY scented ornament with its one-of-a-kind charming idea. This ornament is made out of scrap fabric and created to make your house smell extra festive during the holiday season!
27. Embroidered Snowflakes Ornaments
If you prefer something embroidered, you can make this embroidered snowflakes ornament. It'll make your home transform into a winter wonderland because of the elegant design! The tutorial teaches how to make these Christmas ornament that will add joy to your holiday. The snowflakes ornament is so simple and quick, you can make a dozen in no time!
28. Scrappy Star Patchwork Pattern
You can use your scrap fabric to make this star patchwork pattern to display inside your home. This Christmas ornament pattern will help you make a star that will shine bright and dazzling in your home. Made out of any color and print combination, this patchwork idea is so simple and rustic. You can either make a big one to hang outside your door or make a tiny version for your Christmas tree.
29. Felt Gingerbread Man Ornament
DIY Christmas ornaments are homier, warmer, and more affordable than store-bought decors. This tutorial will help you make a felt gingerbread man ornament that is so pretty and intricate no one will believe it's homemade. These ornaments will add a festive and adorable touch to your Christmas tree!
30. Felt Tree Ornament
Most sewing machines have several decorative stitches we barely use. In this sewing project, you'll have the opportunity to make use of your machine's stitch pattern. This felt tree ornament is great for both beginners and experienced sewers. You can make several pieces to match your gift wrapping.
31. Diving Elf Legs Ornament
Kids and adults will marvel at these diving elves leg ornament every time they walk past your Christmas tree. You can proudly display this elf leg next to your ball leg ornament for a humorous juxtaposition. This sure is a clever sewing project to make this holiday.
32. Three-Dimensional Doily Ornament
This three-dimensional doily ornament will add a delicate and traditional touch to your Christmas tree. This is one of your most rewarding and fun project for the season!
33. Crazy Patchwork Tree Ornament
Looking at a pile of scrap fabrics is totally disappointing. We know we can make something out of it but cannot think of an idea. Worry no more! Because this crazy patchwork tree ornament will reduce that scrap pile into something a little less intimidating. You can make as many as you can while the holidays are here. This is one of the DIY Christmas ornaments will help beginners get comfortable before starting large quilting projects.
34. Christmas Birdie Ornament
This Christmas birdie ornament will bring a tranquil touch to your Christmas decor. You can add this to your Christmas tree adornments and you can also use this as a pin cushion. Dual purpose, right?
35. Stitched Dala Horse Christmas Ornament
I love this stitched Dala horse Christmas ornament, it's so easy, I can make a pair in one evening. These ornaments will add color to your Christmas tree. I will sure make this with my kids!
36. Santa Face Ornaments
This Christmas, if you're planning to decorate your home a little differently, I would suggest these Santa face ornaments. This squishy DIY ornament is a great DIY gift, too. The cute button eyes, rosy red cheeks, and fuzzy beard is so adorable. It gives off such a homey and rustic ambiance!
37. Fabric Scraps Christmas Ornaments
This fabric scraps Christmas ornament is the perfect way to add a punch of bright color to your Christmas tree. Sewing these hanging softies allows you to clear out your giant stash of scraps before the holiday and it will grant you a fresh start for the next year.
38. Felt Christmas Light Ornament
This felt Christmas light ornament is perfect when you have toddlers at home. This is a decoration you don't have to worry about getting broken!
39. Hanging Hearts Pattern
Gather your supplies and create these lovely hanging heart ornaments with your kids. Decorate your Christmas tree with love symbols to add a unique personal touch for the holiday!
40. Felt Ice Skate Ornament
This felt ice skate ornament is another cool idea to decorate your tree. It's  very easy and affordable. Your kids will certainly love to see this.
41. Felt and Leather Stitched Ornament
This stunning handmade felt and leather stitched ornament will add an elegantly rustic touch to your Christmas tree display. No need to use a sewing machine because this project is very simple. The pattern brings a stylish and fun boho vibe to your tree.
42. Donut Decorations
These are a 100% fat-free donuts! 😀 Gather your colorful felt, beads, and coordinating threads to make these fun DIY donut ornaments.
43. Ribbon Candy Felt Ornament
Decorate your tree with these ribbon candy felt ornaments that are just simply colorful. They're so easy and fun to make with your little ones. These are perfect for a vintage Christmas theme!
44. Gingerbread House Christmas Ornament
Design your home with cheerful Christmas ornaments that look good enough to eat! Add a little sweetness to your Christmas tree with these gingerbread house ornaments. This tutorial includes free printable patterns so you can make a gorgeous gingerbread house.
45. Pineapple Christmas Felt Ornament
Create this fun, quick, and easy pineapple Christmas felt ornament and forget about the typical red, blue, and green Christmas! If you're feeling like a tropical Christmas, this is one of the perfect projects to make. It is good for beginners, in fact, you can make one of these in less than 15 minutes.
46. Snow Day Snowflakes Ornament
Sewing isn't a hobby just for adults. Let our kids learn and have fun sewing their own crafts. These snow day snowflakes ornaments will expand their creativity and imagination. Let them draw their own snowflakes directly on the fabric. Just don't forget to assist them in cutting and stitching.
47. Scrappy Christmas Elves Ornament
Scrappy Christmas elves ornaments will make your trees so much cuter! This tutorial will show you how to make the little elf doll out of scrap fabric. You can also personalize each elf with beautiful Christmas fabrics. Kids will certainly love playing with these adorable elves!
48. Felt Coffee Cup Ornament
This felt coffee ornament is something new for me. Coffee lovers will love this creative idea. Decorating your Christmas tree with these coffee cup ornaments will add a warm feeling to your home decor.
49. Ball Fabric Ornament
These ball fabric ornaments will add color and spirit to your Christmas tree. No special materials needed, just a short yard of fabric, a circle jar to shape, and ribbon. The perfect gift for your neighbors and friends.
50. Hanging Christmas Ornament
Let your creative juices flow and make these hanging Christmas ornaments for the season. You can customize any design you want and any color of the buttons. There's no limit to your imagination!
51. Deer and Fox Felt Christmas Ornament
These deer and fox felt Christmas ornaments are too cute to resist. My theme for this year is a white Christmas, but I can't get this out of my head. So I'm going to make these since the background picture is snow. 🙂
There are many varieties of shapes, colors, and sizes of Christmas ornaments you can choose. For more ideas you can watch this video from Made to sew for DIY Christmas felt decoration:
Decorating your home doesn't need to be expensive. With fabric scraps and some creativity, you can add a heartfelt touch with these homemade Christmas ornaments. You can also keep them for next year when the Christmas season ends. Find and save an ornament you can start sewing today. Share this to your friends and family. Enjoy!
Did you find the Christmas ornament you want to sew this holiday? Let me know by leaving your comment below! Looking for knitting projects? Get the 33 knitting projects here you can make this winter!